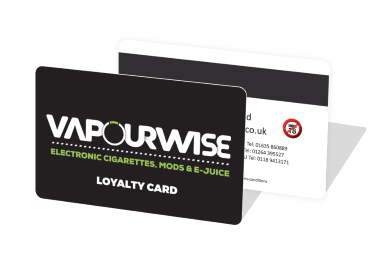 Oct
22
VAPOURWISE LOYALTY CARD SCHEME
Vapourwise Loyalty Scheme is one way in which we reward and thank loyal customers for patronising our business and purchasing Vapourwise products. Members of Vapourwise Loyalty Cards can earn and accumulate "Points" that can be redeemed for Vapourwise store credit.
JOINING VAPOURWISE LOYALTY CARD SCHEME
Go to any Vapourwise location and fill out the form to receive your loyalty member account.
The registration process will require that you provide the following information: name, phone number and email address (required in order to receive all eligible rewards). You may only have one account that is personal to you.
EARNING POINTS
You can earn points by purchasing goods at Vapourwise locations only.
Generally, points for qualifying purchases from participating stores are automatically added to your account upon receipt of your purchases.
PROMOTIONAL AND BONUS POINTS
From time to time, we may offer you special promotions that offer you "Promotional Points." Promotional Points, such as "bonus" points, will be awarded as described in the applicable promotional offer and will be subject to any additional terms set forth in the promotional offer.
If you have provided Vapourwise with a current, valid email address, you may receive emails from us for bonus points and other promotions. You must opt-in to receive promotional and marketing offers from Vapourwise and will be required to provide a valid email address in order to receive notice of such offers.
TERMS AND CONDITIONS
PLEASE READ THESE TERMS OF USE CAREFULLY. BY ACCESSING OR PARTICIPATING IN THE VAPOURWISE LOYALTY CARD SCHEME, YOU AGREE TO BE BOUND BY THESE TERMS OF USE AND ALL TERMS INCORPORATED BY REFERENCE. IF YOU DO NOT AGREE TO THESE TERMS OF USE, DO NOT PARTICIPATE IN THE VAPOURWISE LOYALTY CARD SCHEME.
You must be over 18 to participate in the loyalty scheme.
The loyalty scheme is for in store purchases only and the card must be presented at time of purchase for any points to be added. No points can be added after a transaction is complete.
Online orders are not included in the scheme and points cannot be redeemed online.
The store may refuse to redeem any loyalty card which it considers is being used fraudulently or in breach of these terms.
The loyalty card is non-transferable, non-refundable and has no cash value.
The scheme is intended for personal use only.
Vapourwise reserves the right to amend, cancel or withdraw this loyalty card and the loyalty card scheme at any time without notice.
To view our full terms and conditions press here